5 factors that will shape Azerbaijan's future in 2021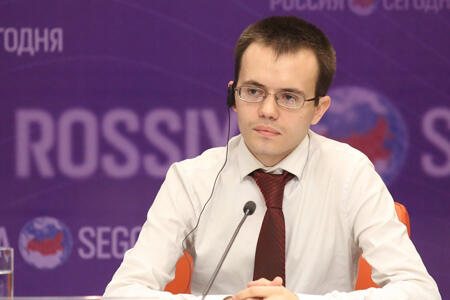 Axar.az present the article "These five factors will shape Azerbaijan's future next year" by Andrew Korybko.
There are five factors that will most powerfully shape Azerbaijan's future next year. These are the Armenian government's stability, the implementation of the Nagorno-Karabakh ceasefire agreement, the success of the joint Russian-Turkish ceasefire monitoring centre, the progress made on pioneering the Zengezur Corridor between Nakhchivan and the rest of Azerbaijan, and Azerbaijan's success in positioning itself as one of the most crucial nodes in China's Belt & Road Initiative (BRI). All five of these will now be analyzed a bit more at length in order for the reader to better appreciate their significance.
1. The Armenian Government's Stability
Prime Minister Pashinyan's political future is uncertain after widespread unrest erupted in the country following his decision to order the withdrawal of Armenian forces from Azerbaijan last month after his nation's disastrous defeat on the battlefield. Ultra-nationalist members of the opposition regard this as a "betrayal of national interests" and have been agitating for him to resign. The police regularly arrest some of the most riotous participants of these anti-government demonstrations but have thus far failed to curtail them. Pashinyan's continued stay in power might see him either usher in a new and more pragmatic era of relations with Azerbaijan or submit to the ultra-nationalist opposition by continuing to provoke it and thus leaving his landlocked country isolated for the indefinite future. The latter scenario would also transpire if he's removed from office due to a Color Revolution or upon his resignation or defeat in early elections.
2. Implementing The Nagorno-Karabakh Ceasefire
Russia must see to it that all Armenian fighters active within its peacekeepers' zone of responsibility disarm, demobilize, and reintegrate into society (the last-mentioned only being relevant if they're locals and not foreign fighters who must then, in that case, be expatriated). Moscow cannot waver in its commitment to see this process through otherwise it risks losing Baku's trust and not being seen as the neutral mediator that it promised to be. Russia's responsibilities also extend to ensuring that no material or financial support is provided to those fighters from Armenia, be it from that nation's military or civilians. Furthermore, Moscow and Baku must closely coordinate the region's gradual reintegration into Azerbaijan by standardizing its legal, educational, security, and other systems so that this process is as smooth as possible. So long as Russia has the political will, which there's no reason to doubt at this time, then everything should go off without a hitch.
3. Russian-Turkish Coordination In Nagorno-Karabakh
One of the most unexpected outcomes of this year's Nagorno-Karabakh conflict was the decision to establish a joint Russian-Turkish ceasefire monitoring centre. Many observers had earlier considered those two countries to be rivals in what was wrongly misportrayed as a proxy war between their two closest regional partners. That assessment is no longer relevant after they proved that they'd rather cooperate with one another there than compete. Nevertheless, this will be the first time that their forces are monitoring a ceasefire in the former Soviet space, the conditions of which are vastly different than the ones in Syria where they've been doing something similar for the past few years already. Their coordination in the Arab Republic is generally regarded as productive even though some differences occasionally make themselves known. With this precedent in mind, their coordination in Nagorno-Karabakh will likely be productive as well, possibly even more so.
4. Pioneering The Zangezur Corridor
Another surprising outcome of the latest conflict was the peace agreement's stipulation that Armenia facilitates the creation of an economic corridor between the two parts of Azerbaijan via its Zangezur region that will then be under Russia's control. Such connectivity is unprecedented in the post-Soviet era and will therefore allow Azerbaijan to unlock its full economic potential. In addition, it'll complement its trans-Georgian connectivity with regional ally Turkey through the BTK Corridor and thus bring those countries even closer together than ever before. In addition, Armenia also stands to benefit if its government commits to a new era of relations with its neighbours and seeks to incorporate the country into this new regional connectivity corridor. The Zangezur Corridor is therefore about more than just Azerbaijan or even it and Turkey, but about pioneering an entirely new future of cooperation for the South Caucasus region.
5. Becoming A Crucial Node In China's BRI
Azerbaijan's geostrategic location smack dab in the centre of the Chinese-Turkish Middle Corridor and Russian-Indian North-South Transportation Corridor (NSTC) enables it to function as a regional integration fulcrum between all cardinal directions in Eurasia. The country's glorious victory in the Patriotic War and resultant agreement to pioneer the Zangezur Corridor to complement its BTK connectivity with Turkey will lead to Azerbaijan quickly taking on an even greater strategic significance, one which can easily be built upon to turn it into one of China's most important partners in Eurasia. The coming year should therefore see the Azerbaijani government, strategists, experts, and civil society actively discussing the most optimal way to bring this grand strategic vision about in coordination with all their relevant partners. The sooner that this happens, the sooner that the South Caucasus can become one of the world's next investment hotspots.
Looking forward, there's a lot for Azerbaijan to be optimistic about in the coming year. Its victory in the Patriotic War was an event of global significance which proved that it's possible for international law to be implemented in so-called "frozen conflicts". Just as importantly, it completely revolutionized the regional geostrategic calculus, both in terms of Azerbaijan's emergence as a rising force to be reckoned with and also due to the unprecedented joint Russian-Turkish ceasefire monitoring centre, the first in a former Soviet country. 2020 was a tough year for Azerbaijan but all of its sacrifices were worth it, and they'll finally pay off from 2021 onward.
---
MORE EXPERT ANALYSIS:
MORE GEOPOLITICAL ISSUES:
FREE SUBSCRIPTION
Get new content delivered directly to your inbox.